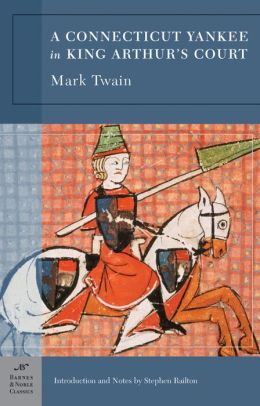 Great Quotes:
"Old habit of mind is one of the toughest things to get away from in the world. It transmits itself like physical form and feature."
"You can't depend on your eyes when your imagination is out of focus."
Analysis:
A Connecticut Yankee in King Arthur's Court is one of Mark Twain's less known classics.

That said, A Connecticut Yankee is still worth your time.
The book is an examination of how a person thinks.

The main character, Hank Morgan, attempts to deconstruct Camelot and built 19th century America.

He struggles because of how deeply the status quo is ingrained in the society.

The people of Camelot, from King Arthur to the lowest slave, have been taught and trained that this is the ideal society.

Hank Morgan struggles to make a lasting influence because of these convictions.
A Connecticut Yankee argues that we cannot simultaneously improve society and maintain the status quo.

We must select one or the other.

If we choose progress, we must be willing to think new thoughts, do new things, and embrace the unknown.

We must discover our unperceived shortcomings and overcome them.

A Connecticut Yankee is a classic because it will be forever timely.

We study history because it is easier for us to see the errors of the past than it is our own.

Do we have less errors of thought than King Arthur?

Perhaps.

But maybe Arthur's errors are just easier for us to see.

Maybe our errors are just as numerous and just as appalling.

Maybe we have grown comfortable with our errors.
Things to take note of:
1.

I loved the pure silliness of several of the scenes described.

For example, the knights of the round table begin to ride bicycles.